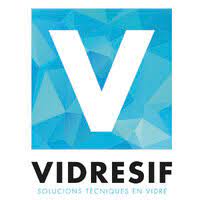 VIDRESIF
Spanish family company founded in 1994, VIDRESIF, has positioned itself in less than 30 years as an industrial reference in the manufacturing and marketing of high-end and designer products in insulating glazing for facades.
Based nearby Girona, in Catalonia, the factory covers 15,000 m² and transforms 175,000 m² of insulating glass per year.
The Company is particularly recognized for its specialization in large technical glazing and in designed glasses thanks to its mastery of digital printing. VIDRESIF was thus the first Spanish glassmaker to equip itself with production tools capable of manufacturing "jumbo" glasses measuring six by three meters. With an annual turnover of more than €25 million, VIDRESIF employs 115 people.
Founded in 1979, RIOU GLASS is a French family group specializing in the processing of flat glass with high energy and environmental performance. The Group, which has an annual turnover of around €260 million, has a territorial network made up of 23 industrial sites, 16 in France, 3 in Belgium, 3 in Italy and now a new site in Spain.
The acquisition of VIDRESIF by RIOU GLASS in the second largest acquisition in the Group's history, making the VIDRESIF site RIOU GLASS' second production center.
NEXT CORPORATE FINANCE (based in Spain) and ATOUT CAPITAL both members of the M&A GLOBALSCOPE network, advised the shareholders of VIDRESIF in the context of the sale to RIOU GLASS. This operation brought together two entities with similar DNA, bringing together strong family values combined with a high degree of specialization and innovation.
This joint operation demonstrates the strength and relevance of the GLOBALSCOPE network, which offers direct access to more than 44 countries.